PathSolutions at Cisco Live 2022
June 12th-16th in Las Vegas, NV
Booth: #1942

PathSolutions is proud to be a Gold Sponsor of Cisco Live 2022. We will be exhibiting at booth #1942 and our network experts will be on hand to answer questions and to show the exciting new features in TotalView.
We will lead this Think Tank session:
Join Us at the PathSolutions Think Tank Session:
Automating Root-Cause Network Troubleshooting

Date: Monday, June 13th
Time: 12:45 pm
Where: Content Corner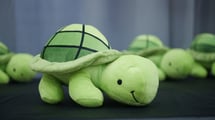 Come to our booth, sit in on a session and get a stuffy turtle. (See the page about our turtle.)
Cisco Live is Cisco's world-renowned annual customer and partner conference that is designed to build the foundation for your digital future by providing attendees with education, connections, and inspiration:
"We'd like to invite you to be ALL IN with us at Cisco Live. Cisco Live is the place to be to meet, greet, learn, and share ways of solving some of the biggest challenges out there. Let's get back together to build community, share experiences, and discover solutions. We can't wait to see you!"